18.03.2020 +++ INFO +++
Dear Ladies and Gentlemen,
Dear friends of Classic cars and Porsche enthusiasts,
at this point we would like to inform you that we will continue our operations until further notice.
The team at TS Aircooled Classics also observes the current situation and development around the corona virus critically and we receive new information several times a day from the responsible chamber of crafts and vehicle guild. In order to guarantee the best possible protection against infection, we have adapted our operational processes and expanded our service.
Our infection protection measures:
We are not rude, we are careful. We refrain from shaking hands and give you a smile. Our garage employees work in separate hall areas, contact in the break and sanitary rooms is also excluded. Thus, a possible infection among themselves is to be avoided and the operation continues to be fully guaranteed. We kindly ask customers, interested parties and visitors to ring before entering the garage area. We also ask for your understanding that a certain distance is kept from our employees. The sending of documents of offers, cost estimates, invoices, etc. will take place in the coming weeks exclusively via email. Please refrain from cash payments, alternatively an EC device is available. Of course, we will adjust the measures if necessary.
Our extended services:
Due to the closings of daycare centers and schools, as well as further restrictions in childcare and leisure facilities, many are currently busy restructuring and adapting their everyday lives. If you are currently prevented or belong to a risk group, we offer a free vehicle transport within 100km. The transport takes place as part of the garage order in a closed van.
In the digital age, we also offer contactless order processing. Orders are discussed in advance with our garage team by phone, if necessary and for details, a customer-specific, password-protected online access for the exchange of images and documents is made available on the TS website. Document dispatch is exclusively via email or customer-specific online access (except original documents required / requested). If desired, the vehicle handover can also be made contactless by prior arrangement.
Dear Ladies and Gentlemen, we have definitely imagined the start into the classic car season 2020 differently. Even with the first cancellations of the trade fairs, it was clear that the upcoming events, as well as the first trips and get-togethers of young and oldtimer friends, to all of us protection & health, will not take place. Through the measures taken in our company and expanded service offers, we offer you the opportunity to keep your classic up and running. A spring check, an inspection, a wheel change or a project that has been planned for a long time or an overdue maintenance?
The TS Aircooled Classics team looks forward to your request.
You can still reach us during our opening hours by phone, email, contact form, and via Facebook & Instagram message.
We thank you for your understanding and consideration.
18.03.2020 The page "Young and classic car events" is not available until further notice.
As soon as there are any news, we will keep you up to date.

10.03.2020 Technorama in Kassel is cancled

09.03.2020 Techno Classica 2020 Essen – shifted schedule
More information (GER) here
25.08.2019 – Porsche Club Möhnesee e.V. visited TS Aircooled Classics
In bright sunshine, the TS Aircooled Classics team welcomed
around 70 participants of the Porsche Club Möhnesee e.V .. As a conclusion
Participants were able to enjoy a nice exit along the Möhnesee
and got Strengthen by a cold drink and a grilled sausage between classics and engines.
We would like to thank the organizers and participants of the
Porsche Club Möhnesee e.V. for the visit and with our hard-working helpers
for active support.
Oldtimer-Grand-Prix at the Nürburgring 2019
TS at the second Lippe-Hellweg classic car rally
60 vehicles started on the market square in Lippstadt on June 2nd, 2019,
for the Lippe-Hellweg classic car rally. Also this year the organizers
of the Rotaract Club Lippe-Hellweg have come up with some tasks for both driver and passenger,
on the route through the district of Soest. For the projects "Echt Stark" and
"die Krankenhausclowns", Nike and Lars from TS Aircooled Classics also started and drove,
like all participants in the rally, for a good cause. Thorsten and Roland supported this year
the drivers and vehicles with our service car. Many thanks to the organizers
and many helpers who made this great rally possible. More information about the rally,
as well as result lists and pictures can be found at: 2. LIPPE-HELLWEG OLDTIMER RALLYE
TS Aircooled Classics visited the 31st Techno Classica in Essen
RGB Season finale Nürburgring GP
13th Geseker Gösselrallye
On 18.08.2018 the 13th Geseker Gösselrallye took place in wonderful weather.
Also this year the event was organized by "V20plus Friends of Classic Vehicles".
The created roadbook is covering a total of almost 160 km through the district of Soest and the neighboring ones
Districts of Paderborn and Gütersloh. A great route with various special stages
and exciting tasks. The driver and front passenger were alike at the rally
required – whether image search, estimation questions, questions about the own car or skill exercises.
A successful event that we would like to support again next year.
Impressions and results in our gallery: TS on Tour
TS Aircooled Classics at the 1st Lippe Hellweg Oldtimer Tour
On 03.06.2018 the Rotaract Club Lippe-Hellweg organized the first Lippe Hellweg classic car tour.
Together with other young and oldtimers from the OldtimerKlinik Lippstadt, TS Aircooled Classics started with a Ford Transit MK1 and a Porsche 911E Targa. A total of 79 vehicles took part in the exit. The roadbook led us from the market square in Lippstadt over beautiful, scenic sections of the route past the Möhnesee to the Petri church in Soest.
Difficult tasks were repeatedly distributed across the route, requiring the driver and front passenger to have both driving precision and specialist knowledge of the automobile. Together with his co-driver Mareike, Thorsten Strätgen took fourth place in his class and received an honorary award.
A successful and well-organized event for a good cause. We look forward to participating again next year.
You can find information about the event, lists of results and pictures here
Impressions in our gallery: TS on Tour
Porsche Classic Engine oils & Article from the Porsche Driver´s Selection
Youngtimer Trophy – 6. Run Nürburgring Nordschleife
TS Aircooled Classics together with the team from PZ Soest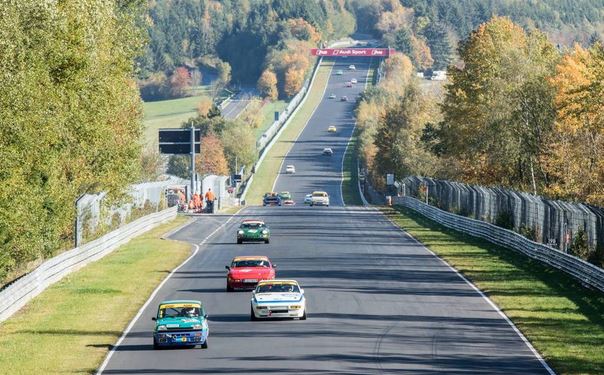 Youngtimer Trophy – 5. Run Nürburgring Grand Prix route
TS Aircooled Classics together with the team from PZ Soest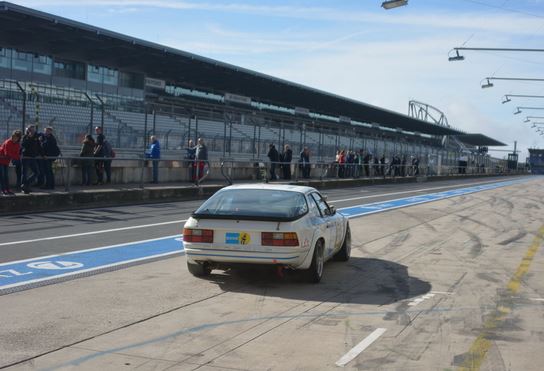 TS Aircooled Classics on Tour at the 12th Gösselrallye 2017
On 19.08.2017 the 12th Gösselrallye in Geseke took place. Together with other young and oldtimers from the Kultmobilen Lippstadt, two vehicles from TS Aircooled Classics went to the Geseker Marktplatz in a column on Saturday morning.
Impressions and lists of results in our gallery: TS on Tour